Publicity Success! For Authors, Experts & Solopreneurs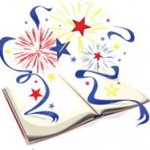 You've got a big message!
A hearty, ticker-tape Congratulations. You've followed through on what thousands of folks have said they'd like to do "one day." But YOU did it!
You've launched your book, you're rockin' your expertise or your business!
Now, you realize that actually writing your book or becoming a thought-leader may have been one of the easier parts of your journey to share your expertise with the world.
How do you get known, get visible and get media? Why do some authors or experts get lots of media exposure and others don't?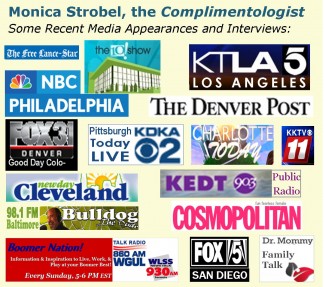 Hello Fellow Authors and Experts,
I'm Monica Strobel. In January 2011 I  began putting my 20 years experience doing community relations and marketing to work on getting the word out about my message and my book.

Since publicity is not paid advertising, coverage by the media is deemed to have a higher authenticity factor, making it a key part of a thought-leader or book marketing plan.
Publicity is priceless
Getting a journalist, producer, anchor or talk show host interested in your topic, you could be interviewed for an article (like I was for COSMOPOLITAN and The Denver Post) or invited to write an article for the media or guest blog post or even be interviewed as a guest on a radio or TV show (sitting in the green room, like I was, with a famous Soap Opera & DWTS celeb, and others!).
Also, other visibility tactics brought me success- things that enhance your expert status and increase your visibility–and sell more books or business (the goal all along, right?).
Behind the scenes work

In less than two-years, I've gotten more than 35 opportunities to be in the media, including in-studio interviews on tv stations across the country and national print placement, including ABC, NBC, CBS and FOX TV, including KTLA, which broadcasts from Studio 7 at a Hollywood studio lot,  HuffPost Live interview, COSMOPOLITAN, as well as lots of radio, too.
Here's the secret: It's not some secret skill but it does take a lot of the right work! Monitoring of what's happening in the media, responding to reporters queries, and having relevant pitch and segment ideas.
Let me help you jump-start your publicity goals! Get a

 Complimentary 30 minute Get Known, Get Media strategy session to talk about your visibility and media goals.
There are so many parts to get lined up for you and rocking, but we'll figure out what is the best direction for YOU to Get Known, Get Media.
You can take what we talk about and run with it!  OR Depending on where you are, we'll see if it makes sense to work together.
Do you have an existing book, business or expertise?
Do you have a message you are ready to share  the world?
Do you have a huge hankering to get on TV and ramp up your expert status?
If you can answer YES to these questions, email me now at Monica @ PositiveFocusSuccess.com  with "Media Pass" in the subject line  You'll get a link to my calendar and  quick survey so I know more about you before the call!
IF you want to get going even sooner, pick up the phone and call me directly: 303.898.8706
IF YOU'RE READY TO  MOVE AHEAD:  In my Get Your Media PASS Program, I'll be working with you to get you prepped and take action to get into the media, and teach you how to keep it going yourself. (That whole, teach a person to fish, not just feed them a fish dinner approach that will save you tens of thousands of dollars, literally). email me for your Complimentary Session now!